Municipal crews are out stabilizing and securing the areas hit by the tornado. Roadways are being cleared.
Gatineau is working hand in hand with its partners: Red Cross, Gazifère, Hydro-Québec, Centre intégré de santé et de services sociaux (CISSO), ministère de la Santé et des Services sociaux (MSSS), SPCA, Cégep de l'Outaouais, STO, Ambulance St-Jean and Salvation Army.
For the latest information
Email and text message alerts
Emails and text messaging (SMS) are perfect ways to receive emergency alerts from Gatineau authorities regardless of where you may be, all for free. Click to register

Social media
Consult our Twitter feed and our Facebook page.
Reintegration plan
Some of the victims can now reintegrate their homes in accordance with the established reintegration plan.
It is important that victims report to the victims centre to register. The centre is located at the Centre communautaire Père-Arthur-Guertin, at 16 rue Bériault. It is open from 9 a.m. to 9 p.m. The reintegration is being done in stages under the supervision of the fire department.
Some of the homes are too damaged to be reintegrated. In those cases, Gatineau and the Red Cross will be assisting the victims.
Containers have been provided for victims and placed at five sites within the perimeter.
Deauville and Jumonville
Georges-Bilodeau and Étienne-Brûlé
Georges-Bilodeau and Jumonville
Jumonville and Daniel-Johnson
Jumonville and Tassé
Anything (garbage, bulky items) can be placed in the containers, except for hazardous waste such as electrical appliances, paint, Varsol- and Prestone type products, and tires. Those should be placed beside the containers.
Victims are encouraged to consult the resident's guide entitled « What to Do After a Disaster » prepared by the fire department. It contains a host of information, including arrangements to be made with the different service providers (e.g. Hydro-Québec, Canada Post).
Victims centre
To register or for any questions regarding the services offered by the Red Cross, the best option is to call 1-800-863-6582.
The Red Cross office is located at 420 boulevard Maloney Est. Hours of operation:
Monday, 8:30 a.m. to 4:30 p.m.
Tuesday, 8:30 a.m. to 4:30 p.m.
Wednesday, 8:30 a.m. to 4:30 p.m.
Thursday, noon to 8 p.m.
Friday, 8:30 a.m. to 4:30 p.m.
Saturday, closed
Sunday, closed
The ministère de la Sécurité publique has delegated 100% of the assistance to the Red Cross. Services are available to all victims who need assistance from the Red Cross. Psychological support is also offered by the Centre intégré de santé et de services sociaux (CISSO).
Insurance Bureau of Canada: for insured residents
The Insurance Bureau of Canada (IBC) has confirmed that damage caused by violent winds and tornadoes is covered under most homeowners insurance policies.

For questions related to their insurance, victims can call IBC at 1-877-288-4321. A special team is on stand-by to answer their questions.
For additional details, consult the news release.

Two information meetings for victims who are not insured will take took place with the Red Cross on September 25.
Traffic
The entire area is now open to traffic. There may be temporary road closures occasioned by the work. Police are continuing their enhanced patrol day and night in the Mont-Bleu area.
Public roads are still being cleared.
Donations and volunteers
Fundraiser for victims organized by Tourisme Outaouais
The receipt and distribution of donations at the former Sears location in Galeries de Hull ended friday night, September 28th.
As of October 1, residents wishing to make donations can do so directly to the following organizations:
Moisson Outaouais: perishable and non-perishable food and personal hygiene products (37 rue Bombardier, Gatineau sector)
Residents wishing to help the victims may make a cash donation through the Red Cross.
Entrepreneurs wishing to offer their services are asked to contact Gatineau's procurement services at 819 243-2315.
Distribution of donations
Victims who wish to have food relief are asked to contact the Société St-Vincent-de-Paul at 819-770-2364.
Financial aid
Canadian Red Cross providing financial aid for Ottawa-Gatineau tornado relief.
Services to victims
Registration and location of tornado victims
Tornado victims who have not yet registered with the Red Cross can do so in person at the victims centre or by calling 1-800-863-6582.
To find out whether someone has registered at the victims centre, call the 311 non-urgent call centre. For calls from outside Gatineau, use the 1-866-299-2002 toll-free number.
Forwarded mail – Canada Post
Tornado victims will be able to pick up their mail at one of two temporary Canada Post sites as follows:

120 rue Edmonton: Monday to Friday from 6:30 a.m. to 3 p.m.
Available contractors
Safety messages
People returning to their homes should be vigilant because there is still debris strewn about.
Gatineau asks victims who were evacuated not to return home until the authorities have given them the all clear.
Some traffic lights are still defective or out of service. It is important to come to a full stop at intersections where the traffic lights are not working.
Residents are asked to avoid driving by the affected sectors unless necessary:
due to safety concerns about possible obstacles (branches, electrical cables, debris, etc.) in the streets;
to enable crews to work, secure and clean the streets; and
out of respect for the victims.
Food conservation:
In case of a power outage lasting more than eight hours, discard all perishables in your refrigerator (e.g. meat, poultry, fish, seafood, dairy products and eggs.
Frozen food can be kept in the freezer for up to 48 hours if it is not opened. Discard any partially thawed food.
After a tornado, once the winds die down:
be careful with any debris such as tarps, glass or other items that could cut and injure;
do not touch electrical cables on the ground or hanging because they may be live, but do contact Hydro-Québec.
If you see any road damage or debris, call 311. If you fear for your health or safety, call 911.
Latest news
Canadian Red Cross providing financial aid for Ottawa-Gatineau tornado relief
Published on October 4, 2018
First Report on the Tornado and Violent Winds of September 21
Published September 28, 2018
Update at 7 a.m.: 1,900 tornado victims registered
Published September 28, 2018
Update at 7 a.m.: 1,749 tornado victims registered
Published September 27, 2018
Update at 3 p.m.: Two Canada Post mail collection sites will be set up by tomorrow
Published September 26, 2018
Gatineau introduces an accelerated demolition and reconstruction approval process for tornado victims
Published September 26, 2018
Update at 7 a.m.: Help for the tornado victims and clean-up
Published September 26, 2018
Updated at 4 p.m.: All evacuated buildings returned to owners
Published September 25, 2018 at 4:00 p.m.
Update at 7 a.m.: Tornado victims continue to receive help
Published September 25, 2018 at 7:00 a.m.
Update at 4:30 p.m.: Continuing with the clean-up, and preparing for the reconstruction
Published September 24, 2018 at 4:30 p.m.
Noon update: Thanks to the tremendous generosity of residents, we will be able to start distributing donations to residents today!
Published September 24, 2018 at noon
Update at 7:30 a.m.: continuing to reintegrate the victims
Published September 24, 2018 at 7:30 p.m.
Update: victims continuing to be reintegrated
Published September 23, 2018 at 5:30 p.m.
Update: reintegration will continue today
Published September 23, 2018 at 7:30 a.m.
Message from the Commission scolaire des Portages-de-l'Outaouais
Published September 22, 2018
Update: a reintegration plan is in place
Published September 22, 2018
Update: municipal clean-up crews on the job
Published September 22, 2018
UPDATE : Gatineau is working on opening an accommodation center and municipal teams continue cleaning operations
Published September 22, 2018
Municipal employees are mobilized
Published September 21, 2018
Plan of the affected area as of September 26
Plan of the affected area as of September 24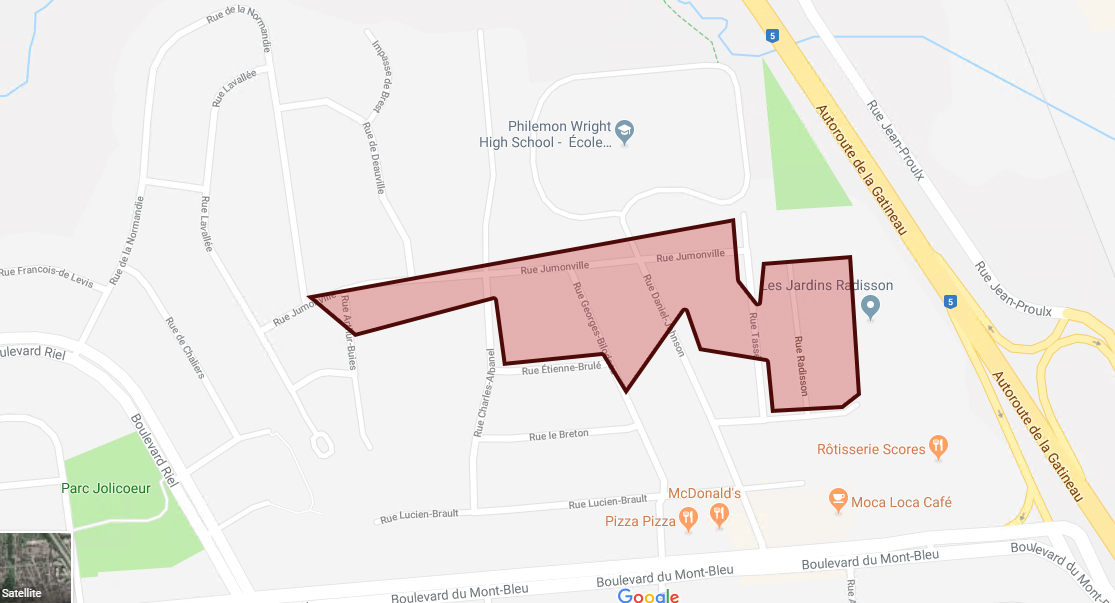 Plan of the affected area as of September 23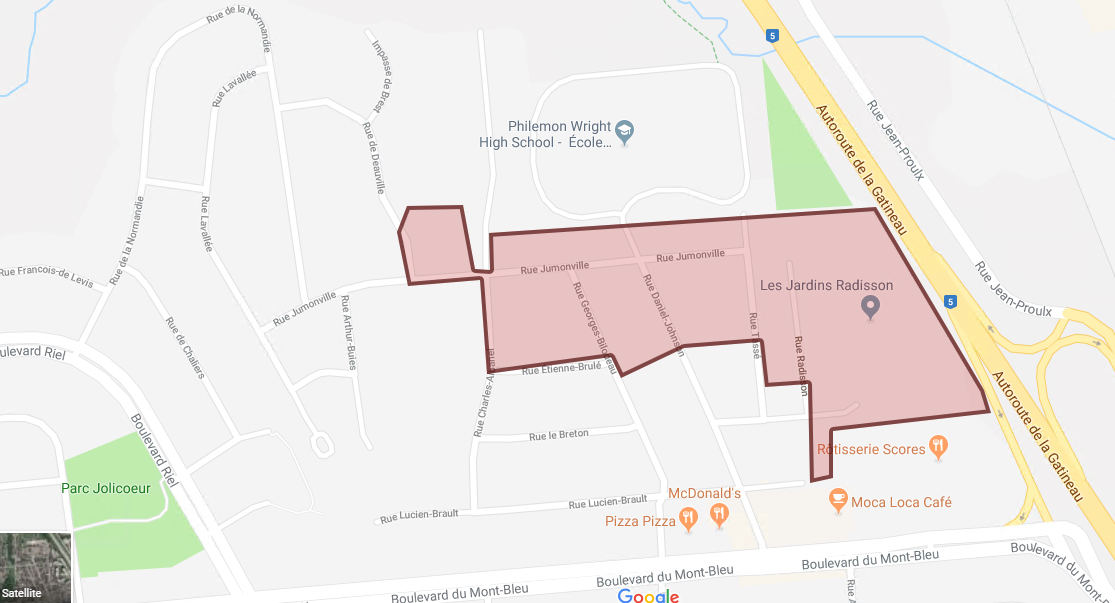 Plan of the affected area as of September 21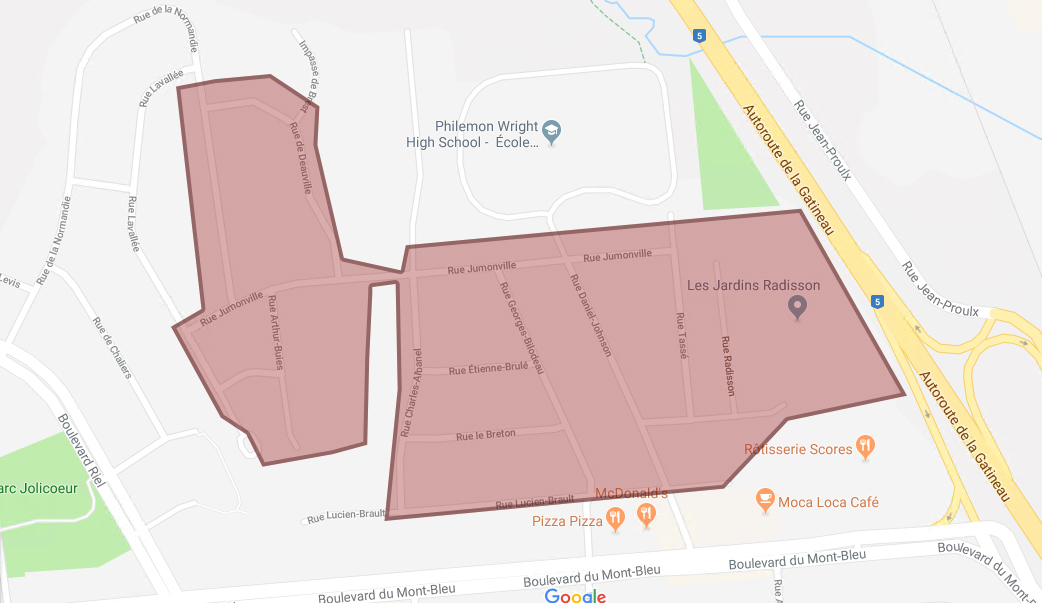 Links to organizations and responders