Ce communiqué a été publié le 21 janvier 2015. L'information dans ce communiqué pourrait ne plus être à jour et certains liens pourraient ne plus être fonctionnels.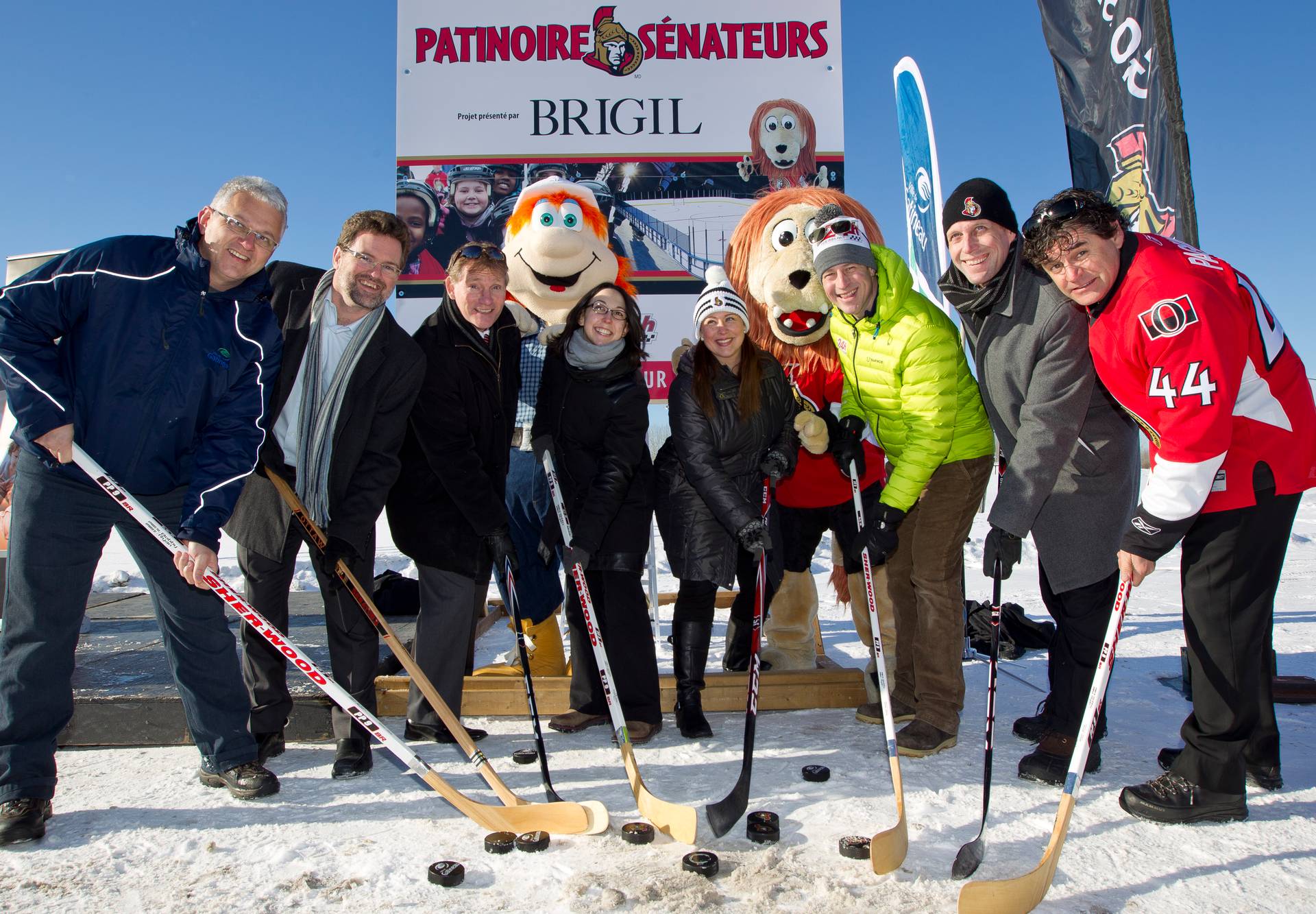 From left to right : Stéphane Lauzon, Maxime Pedneaud-Jobin, Cyril Leeder, Myriam Nadeau, Danielle Robinson, Simon St-Arnaud, Jonathan Bodden et Gilles Desjardins
Gatineau, January 21, 2015. – Gatineau and the Ottawa Senators Foundation are pleased to announce the addition of Brigil as a key partner in the construction of the first Senators Skating Rink in Gatineau.
For this project, the Foundation will cover the cost of the rink's design and construction. Gatineau will provide the land and the lighting, as well as the rink's maintenance, operation and supervision. In addition, this year Gatineau plans to build a community centre in parc Gilbert-Garneau, where skaters will be able to change in the winter.
"This is one more venue provided by the Foundation for people to come and have fun. In total, five outdoor skating rinks will be built in Gatineau. In fact, this spring we will see this joint effort by the Foundation and its partners evolve further with the ground breaking marking the start of the work in parc Gilbert-Garneau," pointed out Gatineau Mayor Maxime Pedneaud-Jobin.
A key partner, Brigil, is also joining the project.
"Today is a very special day for the Ottawa Senators Foundation and the hockey club as we announce our intention to break ground on a new SENS RINK, the first of five to be built in Gatineau," said Cyril Leeder, President of the Ottawa Senators Hockey Club. "This SENS RINK investment is an important step in a long-term partnership with Gatineau and Senators hockey fans in the Outaouais. This project would not be possible without community leaders like Gilles Desjardins and his staff at Brigil, along with Simon St Arnaud and our partners at 24H Tremblant."
"Since 1985, Brigil's motto has been Proud to build a better quality of life. Once again, Brigil is proud to be part of a project that will help improve the quality of life of young people and families in our region," added Brigil President Gilles Desjardins.
Four more skating rinks in addition to the one in parc Gilbert-Garneau are scheduled for completion by 2018: one in the central park in the Aylmer sector, one for the Buckingham and Masson-Angers sectors, one in the Hull sector, and another in the Gatineau sector.
It should be noted that the first two rinks will be built to National Hockey League standard dimensions, that is to say 200 x 85 feet (60.9 x 25.9 meters).